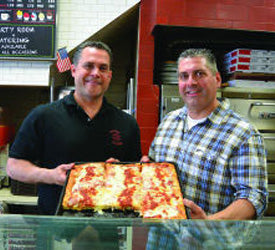 Serving Bensonhurst, Brooklyn. for over 50 years.
Established in 1966, DaVinci is family owned and operated. Brothers Angelo and Antonio Gnerre turn out pizza based on the recipes of their dad, Fedele, a self-taught pizza chef who hailed from Avellino, Italy. Located at 6514 18th Ave, Brooklyn, NY 11204. Come in and enjoy our freshly made pizza's and other specialty items which has made us "BROOKLYN'S BEST" We offer a full menu for parties and provide catering for all your special occasions.
Stop by for a Square or Two
Looking for delivery? Check us out on Uber Eats
Visit our online store - Order your little "Box of Brooklyn"